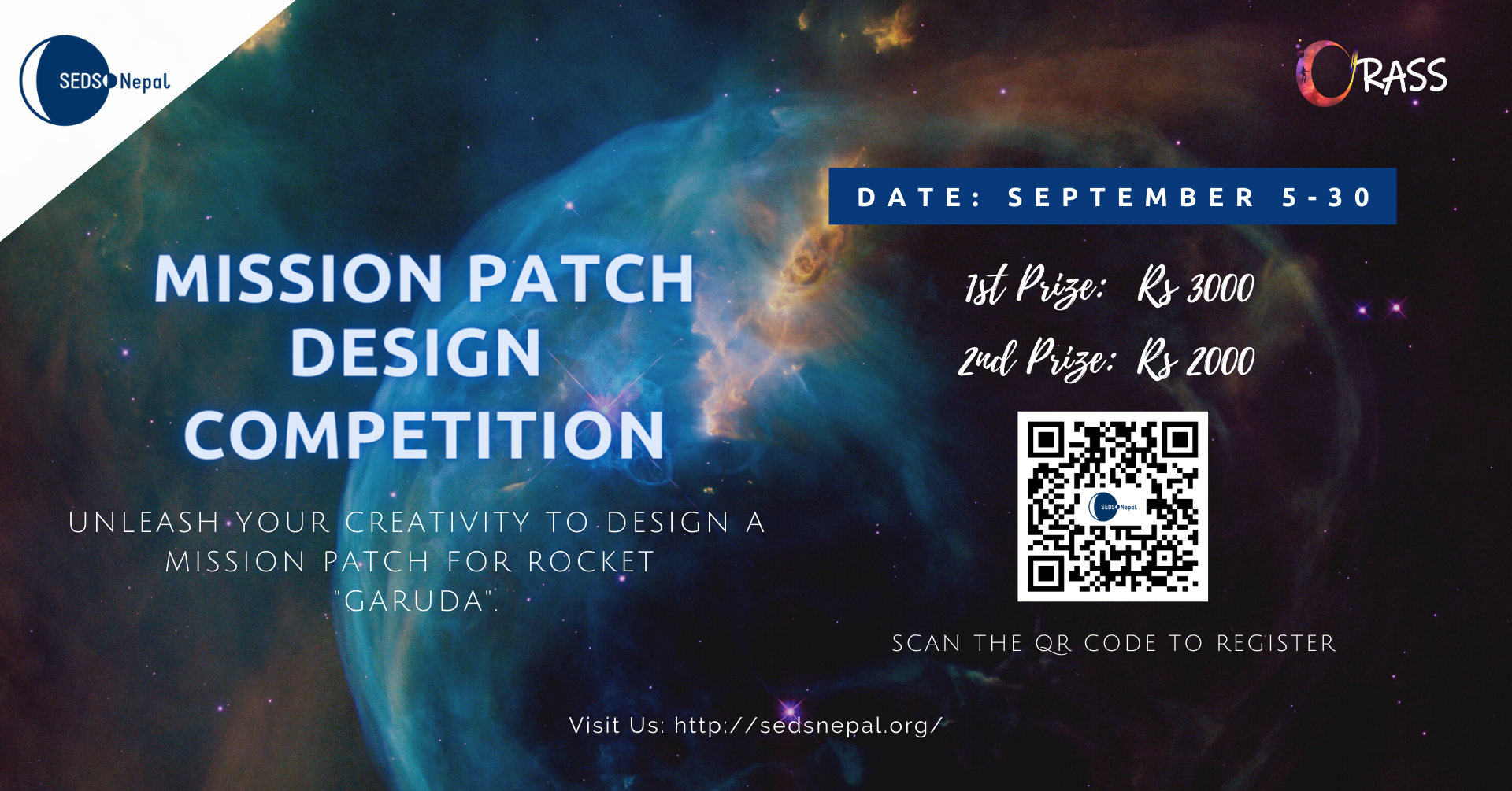 Introduction: 
A space mission requires an abundance of manpower to work together to create a successful mission. A mission patch is the graphic representation of a well-defined understanding of their mission goals and objectives and pride in their achievement. Every space mission has its mission patch, designed by the crew members. The mission patches feature the space mission and important elements of the mission, such as particular experiments that the mission crew will undertake, or equipment that they are installing. The crew proudly wears the mission patch on T-shirts, hats, jackets, flight suits, or spacesuits. 
 Mission Patch Checklist
The mission name for the patch design is "Garuda". Garuda is a 90 inch tall solid sounding rocket designed by ORASS project group.

The mission apogee is 3 km from the ground level.

The mission type is 2U-CubeSat deployment.

The rocket mission goal is to deploy a 4kg 2U-CubeSat from the apogee.

The mission objective is to compete in the Spaceport America Cup.
Procedure:
Each participant may design a mission patch for the mission "Garuda" according to the Mission Patch Checklist.

After choosing their design, participants need to come up with a proper description showcasing the mission goal, science objectives, mission name, and mission destination.

The designs should be colored and there are no restrictions on any color.

The designs can be made using any digital design software as per the wish of the participant. (Photoshop, Illustrator, InDesign, etc).

The shape of the design patch can be a polygon, circle/oval or irregular as per the wish of the participant.

The resolution for the designs needs to be at least 300 Pixels Per Inch (PPI).

The designs should be submitted in a picture (PNG, TIFF, or PDF) format.
Standards:
The mission patch design competition is open for participants of all ages and educational backgrounds.

The evaluation criteria for the competition include: originality, execution, popularity vote.

The popularity vote is determined by the number of likes and shares the mission patch design gets on SEDS Nepal Facebook page.

The submission of the mission patch design should be no later than 30th September 2020.

The design should be submitted to the SEDS Nepal email address: [email protected]